Kind words: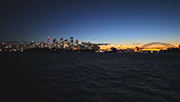 Thank you so much for the last two days, you were the perfect fit for our job! The design room said to say thanks for making things as easy as possible for them.
The client was very impressed by you, she proceed to walk me over to my car yesterday to say they are looking at doing a few each year and that we would only be using you for the job.
I look forward to hopefully working with you again in the near future.
Amanda
,
Sydney
www.mckenzie.com.au