GoPro 4 Scuba Diving Video – 2.7k @ 50fps
Beautiful clear blue water, the sun shining, an array of vibrant aquatic life and the new GoPro 4 black edition in our paws? It's time for a quick gopro 4 scuba diving test!
Towards the end of 2014 GoPro released the latest version of their famed camera dubbed (you guessed it) the GoPro 4. Full details on the new flagship black camera can be found here.
Here is a summary of the latest features to be added…
Features 4K resolution at 30fps, 2.7K resolution at 50fps, and 1080p Video up to 120fps
Capture 12MP Photos at 30 fps
Ultra Wide, Medium, and Narrow Field of View Settings: These help you choose the preferred perspective, be it wide-angle and inclusive, medium for a bit of focus, or close-up
Wi-Fi and Bluetooth Connectivity: Pair it with a mobile device or the separately available Smart Remote, Control of up to 50 cameras from distances of up to 600'line-of-sight
Protune for Photo and Video: Gives you manual control over color, ISO limit, exposure, and more
QuikCapture: Power the camera on and start recording automatically with the press of a single button
HiLight Tag: Tag the highlights in your videos during recording for easy retrieval and playback later
Interval Capture for Time Lapse
Auto Low Light and Night Photo Modes: Take photos at user-defined intervals to use in time-lapse videos — .5 sec, 1 sec, 2 sec, 5 sec, 10 sec, 30 sec, 60 sec
Flat and Curved Adhesive Mounts Included
Built-in Mic, HDMI, USB, MicroSD
Waterproof Housing Depth: 131.0′ / 40.0 m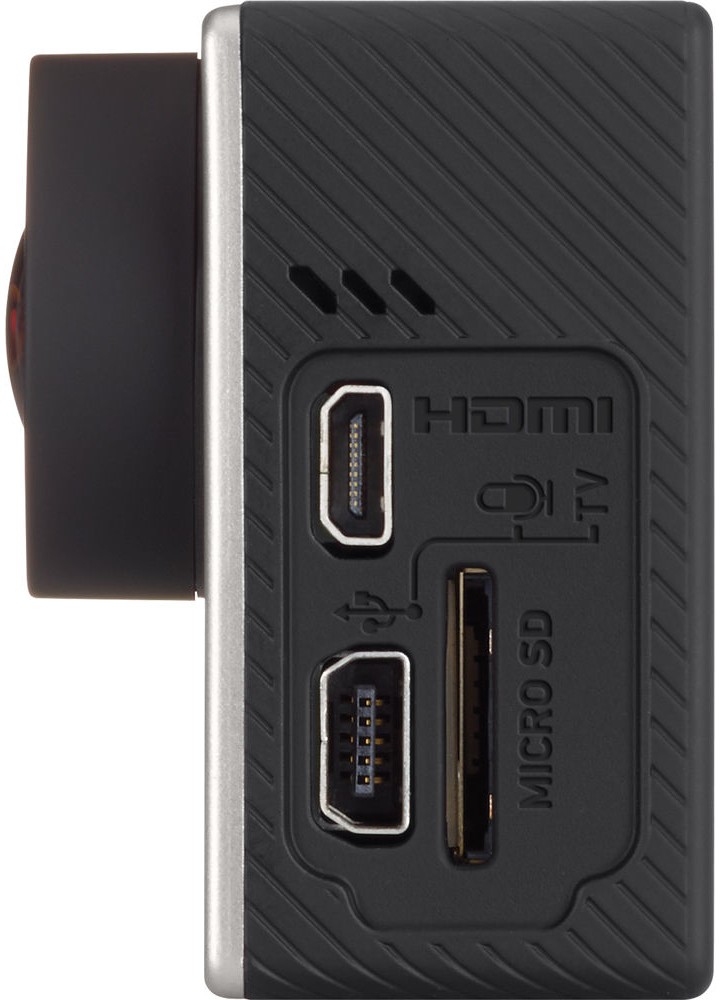 The main features that stand out for us are obviously the ability to shoot 25fps in 4k resolution, we are planning on upgrading one of our fs700's in the coming months to the Sony fs7 so with our GoPro now able to shoot 4k we can offer a complete 4k package for most video production environments.
Another feature was 50fps at 2.7k. This in my mind is a fantastic addition and I imagine will be used more frequently than the 4k 25fps option. I am also very keen to test out the night lapse mode on this camera to see how much the low light quality of the camera has improved as claimed by GoPro.
This test is a fairly unscientific test whilst doing some fun diving in Indonesia earlier this month, using the GoPro app on my iphone it was great to be able to come out of the water and take a look at the shots straight away without having to download the footage onto my laptop, I found this feature to work very well and will come in handy on almost every shoot where we use this GoPro 4.
Looking closely at some of the GoPro 4 diving footage, you can see some breaking up of the codec especially when looking up towards the sun. There was only basic colour correction added in post (levels, a bit of colour correction in the red channel etc and some stabilizer filters). No saturation was added from the camera's picture profile which was left on default Protune.
In summary, we found the picture quality (especially above the water!) to be crisp and sharp in 2.7k and especially in 4k, The battery life was a bit short and with being underwater you don't have the opportunity to change batteries. By half way through the second dive around the hour mark of recorded material I was left with a dead camera. Shooting with the camera is fairly simple and the menu's have greatly improved over the earlier models such as the Gopro 1 and 2.
If you aren't really interested in shooting higher than 1080p then I would recommend you looking into the silver and hero 4 editions.
We would love to hear your comments on the camera as well as the diving vision through our various social pages, you can find links to these on the top left of this page.
Cameraoperatorsydney regularly produces video content for a host of sporting and retail brands for online, TV & cinema commercials. If you have an online video project you would like to discuss then get in touch via our contact page here