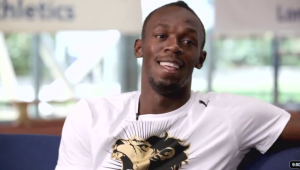 Usain Bolt extended interview
My Role:                            Editor – final Cut Pro 7.
Being one of the World biggest sports stars, it is very common to see Usain Bolt on our screens whether it's on the web, in documentaries or breaking world records on the track. In this extended interview we see him in a relaxed atmosphere having a chat with some athletic students from Brunel University. Within 2 months of going live, this video has received 30,000 hits. Not bad at all.
Equipment: Shot on Canon 7D and Edited on Final Cut Pro 7 and After Effects CS6

* This following page contains material that i do not own, i have included it here purely for showreel / portfolio reasons only.